Description
Brand KCE Tent
Product origin Nigeria
Delivery time 14 days

100,000 m²/month
PAGODA TENT / PAGODA MARQUEE / HIGH PEAK MARQUEE TENT
Pagoda tent is an ideal choice for any event applications. Pagoda tent can be used as separated unit alone or connected with the big marquee tent for some unique function.
FEATURES:
1) Pagoda tent can be linked together to create multiple application.
2) Pagoda marquee has a prominent advertising place on top of front side.
3) Pagoda marquee is easy to set up and disassembly, good looking as a standard booth and sports spectators stand.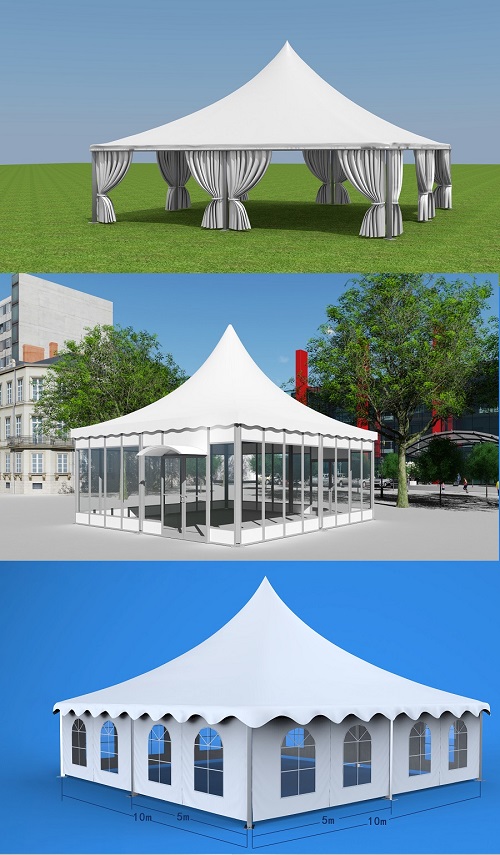 Pagoda Tent / Pagoda Marquee / High Peak Marquee Tent
Product Description
Pagoda Tent is the most popular tent all over the world. Pagoda tent has a neat and elegance appearance. Easy to set up and storage, pagoda tents are widely used as outdoor resort tent, wedding, party tent, expo show tent, sport event tent, concert tent, advertising tent.
Main Frame

Structure

Tent Span: 3m, 4m, 5m, 6m, 10m.
Size: 55mm x 55mm x 1.7mm, 84mm x 48mm x 2.7mm, 100mm x 48mm x 2.7mm, 150mm x 120mm x 3mm.
Material: Hard Pressed Extruded Aluminum Alloy 6061-T6
Roof material
Density: 750g/㎡
Material: PVC knife-coated polyester fabric
Features: UV resistant, waterproof, fire retardant B1
Sidewall
PVC White or Clear Wall, Glass Wall, ABS Wall
Wind Load
Usual 80km/h to 120km/h
Snow Load
10cm Thick Floating Snow
Temperature Index
-30 Degree Celsius ~ +70 Degree Celsius
Life Time
Frame more than 15 years. PVC fabric 5-10 years.
Optional Accessories 
Color of PVC Roof and Sidewall,  Clear PVC Window Sidewalls, Glass Windows, Glass Door Units, Flooring System, Fixed Way, Rain Gutter between two tents, etc.
Company
KCE Tent

Product Details
Fixed Way
1) Expansion screws: The ground can be damaged, such as concrete floor over 20cm.
2) Steel nails: The ground can be damaged, such as soft land and lawn.
3) Weight plate: The ground can't be damaged.